About
Mary Beth grew up in Bedminster, NJ with her 5 siblings, attended Bernards High School and graduated from Rutgers College with a BA in Art History and Fine Art in 1993. She moved to Ithaca, NY in 1994 with her husband and found her home.
She started her decorative art business Ihnken's Creations and joined the Ithaca Farmer's Market in 1995. She primarily painted furniture and slowly moved to the walls, painting faux finishes, Trompe L'Oeil, and of course murals. She had her first son Zachary in 2004 and Miles in 2007.
She has been a member of the Greater Ithaca Art Trail from the start over 10 years. You can visit her restored 1810 barn and farm. These paintings are inspired from life on the farm.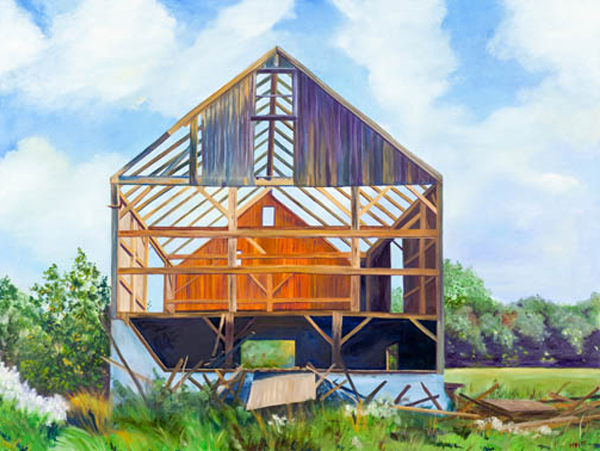 The majority of my work during this period has been in private homes, but I have also had the opportunity to paint several large scale public murals in downtown Ithaca. My first public mural consisted of a Tuscany scene and was painted in 1999 in the day spa and salon Stress Out on Tioga Street.  Since that time, I have painted several additional large scale public murals in town, including the West End Mural on the Bangs Ambulance building between State and Seneca Street for Alternative Federal Credit Union in 2004. I painted the Giraffe Mural twice first on the Unfinished Furniture Store on Taughannock Boulevard in 2007 and then again in 2015 on Pete's Laundry after the first one was covered over for construction.  In 2009, 2010, 2013, and 2015, I was one of the selected artists for Art in the Heart with my triptych "Going to Market", "Ithaka, "Barn Yard", and "Who came first the chicken or the egg?".
In 2011, I painted several public works.  I was fortunate enough to receive a CAP II grant, Local Capacity Building grant, and IPEI grant.  The first of these murals was for Tompkins County Library called "Children's  Dreams". This mural I worked with teens to help develop the concept and sketch for the mural.  It is a mural of  everybody's favorite fantasy and fairy tale character's in a whimsical background  about 20' x 10'. After completion of the Library, I moved on to Caroline Elementary School.  I and the students have created a large mural down the hallway of the third, fourth, and fifth grade classrooms 143' called a "Walk through the curriculum". Lastly, I painted a large mural on the building of Significant Elements on Plain Street to help commemorate their up coming anniversary.  In 2014, I worked with Caroline Elementary School again creating a large mural in their cafeteria based on "Farm to Table".  I also received an IPEI grant for  Dewitt Middle School and painted a mural in their music rooms with the 7th graders.
In 2015, I worked with Caroline fifth graders to create a mural in the foyer of the school to welcome and engage the occupants.  The theme is the Caroline Wilderness classrooms. In the spring of 2015, I painted a 50 foot mural for the Museum of the Earth for their new dinosaur display and the arrival of a Stegosaurus from the Smithsonian. This has been my highlight of my artist career to date. In 2016, 1 worked with Cayuga Heights fourth graders to create a waterfall going down there back stair hallway. I am about to start a 35' x 15' mural for the Brooktondale Community Center focused on the old mills and trains that helped develop the area in the early 1800's.
I believe that public murals help to create community, by radiating out stories and energy that touch everyone who passes by them.  I strive to create this immediate visual and emotional impact with every mural I create.  My overreaching artistic goals are to create both small canvases as well as large murals for the public to enjoy.
Mary Beth Ihnken